Who Is Lesley Neeley?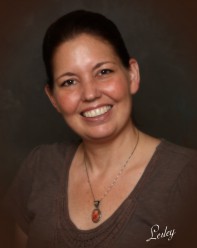 Lesley Neeley is an ABMP and Indiana State certified massage therapist practicing since 1999. Lesley graduated massage school in 2000 and has continued to compliment her practice through continuing education courses with Upledger CranioSacral Therapy (Levels I and II), Usui Reiki (Levels I, II, and Master), the 200-Hour Hatha Yoga Teacher Training, the Institute for Integrative Nutrition (Health Coaching), and most recently Myofacial Trigger Point Therapy as it was taught by Dr. Janet Travell.
Lesley completed the board certification for Holistic Health Practitioners through the American Association for Drugless Practitioners in June 2013 and has been offering her coaching services since January 2014.
Lesley uses her passion for writing to educate the community about Fibromyalgia through presentations and workshops. Diagnosed with fibromyalgia herself, Lesley understands the aggravation of not knowing what is wrong and not having anywhere to turn for answers.

In December 2012, Lesley won a scholarship to attend the "Leaders Against Pain" conference in Washington D.C. where she became a member of the Leaders Against Pain Coalition and the National Fibromyalgia & Chronic Pain Association.
In January 2013, Lesley completed her training with CICOA to become a Lay Leader. This training allows her to co-facilitate the Stanford University Chronic Disease Self-Management Program (CDSMP) through CICOA. She volunteers as a lay leader in facilitating these classes throughout the Greater Indianapolis area and surrounding counties.

Also in January 2013, Lesley partnered with Hendricks Regional Health, Cindy Meyers, and Brenda Hernandez to start a new support group for people living with Fibromyalgia, chronic pain, and/or chronic fatigue. The group meets the 2nd Friday monthly from 3:00pm-4:30pm at the Hendricks Regional Health YMCA in Avon, Indiana in Conference Room #2 and is facilitated by Brenda Hernandez. (Register for classes at www.hendricks.org)

Lesley currently offers individualized speaking engagements for organizations seeking a speaker or wishing to educate their group about:
"Stop Being a Slave to Pain"
"Stop the Pain in Just 10 Minutes a Day"
"Create the Life You Desire in 20 Minutes a Day"
"The Metaphysics of Positive Thought - Control of Your Surroundings"
"Control the Urge to Choke the Hell Out of Your Partner"
Lesley is married and has four children, a son-in-law, a daughter-in-law, and two beautiful grandaughters. In her spare time, Lesley enjoys driving the countryside, long talks with her children, last-minute lunch dates with her dad, and mini get-aways with her mom.
Take a moment to read "My Story". If Lesley's story speaks to you, give her a call. She is here to help you Live Better While Living with Chronic Pain.